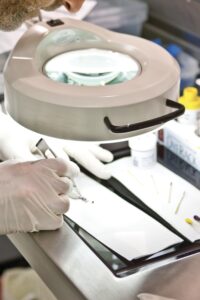 Comprehensive and Trusted Dermatopathology Services
Ada West Dermatopathology is trusted by over 25 external medical clinics across Oregon and Idaho for their high-quality skin tissue processing needs. We offer technical component services along with global services for our clients. In addition to permanent sections, local clients enjoy the convenience of frozen section slide preparation and reads for time-sensitive in-office cases. Our friendly and skilled dermatopathologists are easily accessible by phone for additional consultation on difficult cases. We also offer remote, real-time delivery of full color dermatopathology reports for faster turn around time.
Hospital Level CAP Accreditation
In addition to being CLIA certified, Ada West Dermatopathology is also hospital-level CAP accredited. Through accreditation with the CAP Laboratory Accreditation Program, which is designed to go well beyond CMS regulatory compliance, we adhere to the most comprehensive, scientifically-endorsed laboratory standards for lab excellence. CAP accreditation also allows for most insurance acceptance for patient convenience.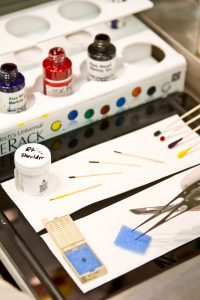 Our Commitment To You
Concise, easy-to-read full-color reports
Industry leading 48hr diagnosis turnaround for most specimens
Convenient, complimentary courier services for specimen and pathology report delivery across the Northwest
State of the art diagnostic equipment
High-quality global component, technical component, and frozen section services
Special stains upon request
Appropriate immunohistochemical stains performed for accurate and rapid diagnoses
Regular internal assessment to improve our professional services